Campaign for The New Huntington
Your Seat Awaits!
As we prepare for the reopening of the newly renovated Huntington Theatre this fall, we are inviting everyone in the community to take part in this important milestone by making a special contribution to fund our beautiful new seats in this treasured venue!
Designed with sleek comfort and spaced with ample leg room, our new seating configuration will make going to the theatre more comfortable than ever before.You can be part of this transformation by underwriting a seat or multiple seats. In appreciation of your generosity, The Huntington will recognize your gift on a name plaque on the armrest of a seat or seats in the revitalized theatre.
You can be part of this once-in-a-generation transformation with an inscription that is meaningful, sentimental, celebratory, poetic, or humorous.
Plaques can feature:
Your name(s)
The name of a child or grandchild
The name of someone you wish to honor or remember
A commemorative date or special anniversary
A favorite short quote or saying
Maximum available text space is 3 rows of 40 characters each.
Gift Levels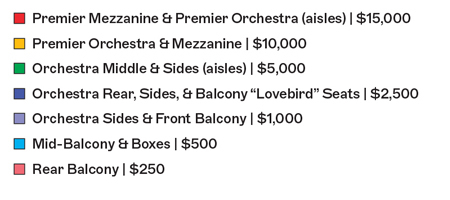 Please note: Named seat requests will be filled in the order received. The seat you name does not indicate your seating location when attending a performance. Name plaques will remain for the duration of the usable life of the new seats. The Huntington Theatre Company is a 501(c)(3) non-profit organization. Your contribution is tax-deductible to the extent allowed by law.
Payment may be made as a one-time gift, pledged as installments for up to three years, or paid monthly for up to 36 months. If you wish to contribute through a donor advised fund, please call 617-273-1568.
Click here to make your gift securely online.
For questions, please call 617-273-1568.
Seats Campaign Spokespeople:
Karen Holmes Ward, Host of WCVB's CityLine
Joyce Kulhawik,  Emmy Award-winning A & E Critic | JoycesChoices.com
Co-Chairs:
Nancy Adams, Annie Hall, and Kate Taylor
Campaign for The New Huntington:
Ann Merrifield, Chair 
Sharon Malt, Vice Chair
Photos: Kathy Wittman / ballsquarefilms.com
Theatre rendering: Bruner/Cott & Associates